2011 October
Notes from the Blood Consultative Committee held on 6th October 2011
SABRE Update
Twenty five organisations have never submitted a report to SABRE but these are all organisations issuing less than 1000 components per year. A further 59 organisations have not submitted a report in 2011. The number of reports has gradually increased since 2006 and the reports are shown below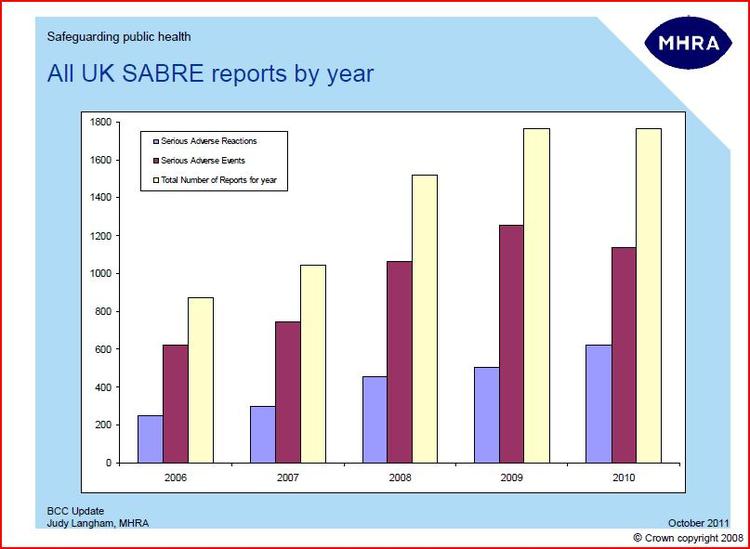 SAE reports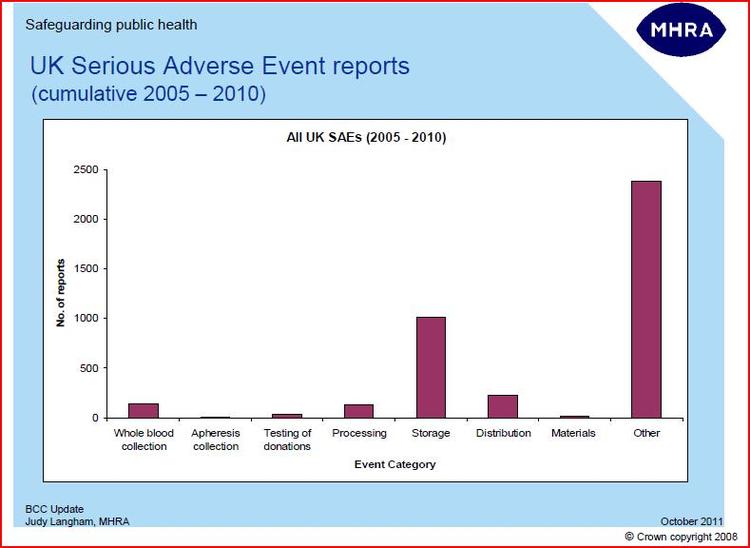 The category "other" accounts for the largest number of SAEs.
Where human error was defined in 2011(n=433) the top five in this category were:
Incorrect blood component issued (95) (missing special requirements)
Component labelling errors (87)
Data entry errors (67)
Pre-transfusion testing errors (50)
Sample processing errors (49)
Storage errors (n=152) the top three were:
Out of temperature control (OTCOL) = 81
Expired component available for transfusion (ECAT) = 60
Component available past de-reservation date (CATPD) = 9
SARs
In the "other" category there were 97 reports and these included:
FNHTR - 63
TACO - 19
Tad - 5
Other - 10
Other haemovigilance activity
The SABRE team are planning to issue an annual report later this year which will include a review of 5 years of data. The report will include root cause analysis data and effective corrective measures. There will also be some input from inspectors.
Educational Workshops have been held with regional TPs and sessions at regional transfusion meetings.
Currently MHRA are working with SHOT to find way of streamlining haemovigilance reporting in the UK.
Blood Compliance Report Update
There have been changes to the form which affect both stakeholders and the MHRA.
Stakeholders:
- No risk score formulae in stakeholder version
- New Pre-transfusion testing section, incorporating Electronic Issue.
MHRA
- Changes to data handling (dual-stage data extraction for risk scoring and assessment)- Changes in presentation of data to inspectors for assessment, including site-specific links to summaries of previous inspection history and SABRE information.
In total, 329 HBB BCRs were submitted
151 'compliant'
120 'conditionally compliant'
58 sites selected for inspection / assessment - (20 with scope for regulatory relief assessment)
10 control sites allocated. Control sites would normally have at least 2 weeks notice of inspection but have not been individually notified they are a "control" site.
Inspection of sites for identified for inspection have been prioritised by:
Specific serious compliance concerns (e.g. validity of BCR responses)
IAG re-visits / High risk score (risk scores >25 / 80)
Risk score ranking within the selected sites.
Non-score related triggers may result in an inspection even for a low risk score eg
Significant changes
National implementation of organisation-wide changes
Blood facility assessment
This is a fully automated process and is currently ongoing. There were 67 submissions from facilities.
Accuracy/data integrity of completed BCR forms
The BCR is part of a risk based inspection system and is used to inform the inspection process. It is key that the information contained in the BCR is accurate and this relies on trust between both parties.
It has become evident to the MHRA that not all BCRs are being completed accurately.
Evidence has been gained via a number of sources:
- During inspection
- Inconsistencies within the BCR itself
- Information received which can be via various means
The following actions can and have been taken:
- A number of short notice or unannounced inspections have been performed
- In some cases multiple sites within a Trust have been inspected on the same day
- Requests for further information including copy of relevant supporting documentation
The following deficiencies have been observed in these cases:
The site answers on the BCR form they have a system for investigations. On inspection it is noted:
- Investigations only raised for adverse reactions and not laboratory based issues
- Investigations take significantly longer than 30 days for no apparent reason
- Investigations recorded as closed with no investigation performed and no CAPA identified
In regards to the change control system
- Number of significant changes in BCR does not match the number of change controls
- When asked to present documentation for changes made none could be found
Investigations into potentially fraudulent activities not completed in a timely manner and appeared to be dealt with outside of the Trust's own disciplinary policy. - Personnel left in a position of trust whilst the investigation "stalled".
The following actions can be taken in these cases:
- In the worst case situation a critical deficiency will be cited and the inspection referred to the IAG for consideration of the issuance of a cease and desist notice.- Usually results in the site being identified for a number of follow up inspections
- Can result in other sites in the same Trust being also inspected
- Can result in referral to MHRA Enforcement group for consideration of criminal prosecution
Why does this happen?
- Naivety or lack of knowledge with regards to the BCR process. Completing the BCR in an "optimistic light"
- Worst case – Deliberate intent to mislead the Agency
To date there have been 4 cease and desist notices issued although many more have been recommended. Just being a large Trust will not provide a reason for not issuing a cease and desist order. It will require the Trust to have in place a robust and timely action plan.
The MHRA have in the past been asked to investigate the lack of a timely supply of components to a patient who died. This investigation involve multiple agencies ie police, H&S, CQc etc
If you identify a deficiency in your organisation you should:
- Formally document the deficiency
- Assess the impact deficiency
- Create an action plan
- Add it to section U, Proposed corrective actions, Of the BCR
- If plan changes notify the Agency
- If you are not sure talk to the MHRA: part of build up of trust between all parties
The site may then be given a rating of conditionally compliant and compliance with the action plan will be assessed at next BCR review.
Common deficiencies at Inspections
Hospital Blood Bank
Data from 38 inspections completed. New categories in the top 10
Self Inspection
- This is typically a lack of adequate resource to establish an effective and ongoing commitment to performing self inspections.
Computerised Documentation Control
- In this area there is a misconception on some sites that the computerised system "is the system" rather than the tool.
- There were also issues of sites either being unfamiliar with the system in place or incorporating inadequate controls within the system to facilitate compliance.
Blood Establishments
Data from 10 inspections completed with new categories in the top ten
Complaints & Recall

- This relates to various weaknesses in the overall

Process Validation

- Ensuring that processes are initially validated and then revalidated at defined frequencies, not just in reaction to change

Maintenance of equipment

- Ensuring that equipment is maintained in a compliant state.
- Signed back into use after planned and reactive maintenance
- Missed preventative maintenance and calibrations not adequately addressed

Quality Management

- Generally a number of concerns regarding the overall quality management system.
No common theme with respect to specific failure topics
Electronic Issue
A set of FAQs has been developed and will be placed on the MHRA website in the same sections as the EI guidance
Good Practice Guidance
A proposal made to work with the Council of Europe. It has been agreed that the next edition will include 2005/62 but not GMP into the standards section. Potentially this could result in a highly fragmented good practice guide.
Some GMP text will be added in relation to:
- Validation
- Contract management
- CAPA
- Self inspection
Consultation will take place next year which the UK regulatory group will support and include someone currently working in a hospital transfusion laboratory in the review.